First peek at the Mausritter box
Nov 30, 2020
As you know I very much enjoy the Sword-and-whiskers role-playing game Mausritter.
Recently Isaac Williams together with Games Omnivorous released a physical box of the game (that used to be PDF only for a long time).
I just got the box in the mail so let's have a quick look at it together!
Oh boy. pic.twitter.com/C3OmnMnkyM

— Christopher (@ttrpgdad) November 30, 2020
First of all it comes in a beautiful (unusually) sturdy box illustrated with a beautiful flowery wallpaper.
The box contain the following items
The hardback rulebook (with a little mouse hole on the front)
Rules reference sheet (sturdy paper)
A game master's screen (A5 hight, in nice non-glossy paper)
A stack of character sheets.
The adventure location Honey in the Rafters (on three piece folded pamphlet).
Item and condition cards (sturdy glossy paper)
An erasable pen to mark off item uses.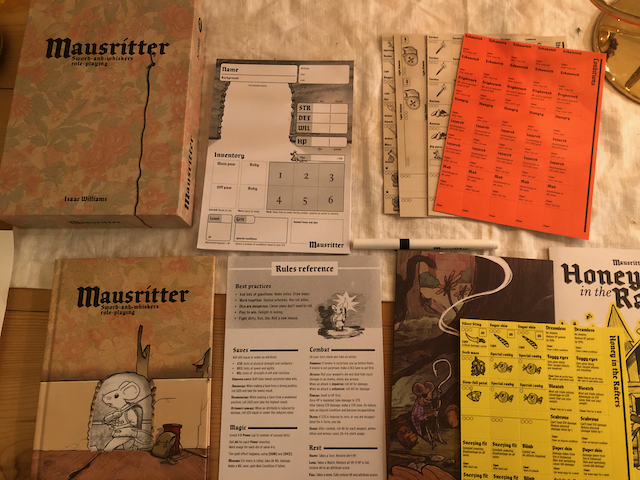 Highlights
The box is much more sturdy than I have come to expect from the boxes from e.g. Fria Ligan.
I love the artwork and the dimensions on the DM screen. Its smaller than any other I own but I find generally they tend to be higher than they need to be.
The erasable marker and the glossy and hard item cards will get a lot of use at my table. The paper cutouts I used to use got all bent and worn as I used them.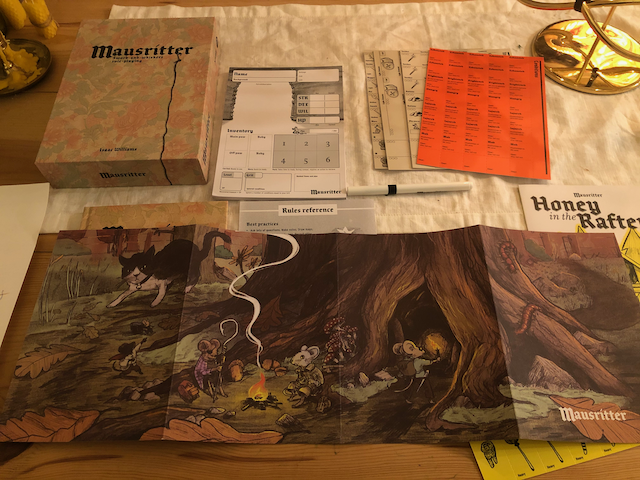 The rulebook has been expanded (but the same material can now also be found in the updated rulebook pdf).
What is new
Example of play section
Some new creatures (Crow, Centipede & Frog)
Hexcrawl has been expanded with details on Fractions (major powers within your hexes) and encounter tables.
Landmark detail tables have been expanded with more options.
Mouse settlement tables and details have been expanded (more options and governance, taverns & industry tables)
A spread on how to design the fractions and their goals. Some examples fractions (and the earldom of Ek has also been given fractions).
Toolboxes for creating adventure sites (stocking rooms with treasure and traps etc).
Treasure tables. Magic weapons (& cursed swords).
An example adventure location called Stumpsville.
All in all I am very happy with this box! It got a bit expensive as it shipped from Europe.
If all you can get is the PDF to print youself at home, you are still golden. The box doesn't really provide anything new except a few covenicenes (sturdy paper and hardback). However I feel the quality of the print and paper just gives that little extra nice feeling, so I am happy I bought it.